Join us for a wonderfully FUN & FREE family friendly celebration.
This year, we have the same great line up of incredible talent: Balloon Bender Dave,Adam Pate (fastest sketch artist in the world), Its Your Day Photo Booth, Go Fun Services with Bouncy houses, Face Painting by Memphis, Free Food, Drinks, Games & Prizes.
In addition, we are excited to bring you the Y-Town Total Package Band. They have been playing for over 37 years and will leave us dancing to their classic Motown/R&B Sound. It will be an unforgettable experience!
You and your kids are going to LOVE This!
The 2017 Falls Family Festival will take place Sunday October 1, 2017, from 2:00 – 6:00 pm at the church:
837 Chestnut Blvd
Cuyahoga Falls, OH 44221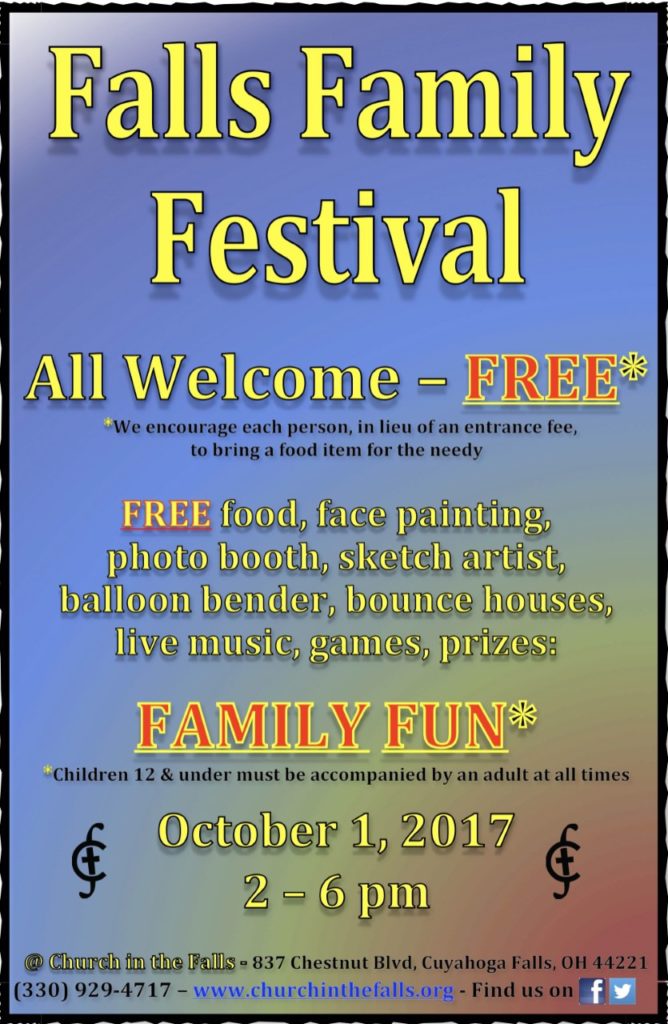 A PREVIOUS YEAR'S VIDEO IS BELOW – YOU ARE GOING TO HAVE A BLAST!
OH – did I mention that everything is FREEEEE!  (we do invite you to bring a dry good for the poor).